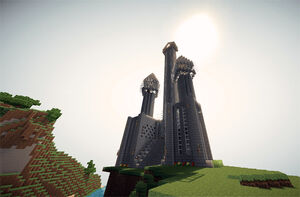 Buttraider is a faction that has been active since the end of map 3. They are a close-knit faction based in the South-East area of the HCFactions world. On map 4, their base was water-based within a one-chunk border. Buttraider moved to a land style structure for map 5. Their current residence is located near a village in the South-East.
Inactive members:
Previous members:
Buttraider National Anthem
Edit
Buttraider's Official Anthem is C418's "13"
It is a common sign of respect for fallen Buttraiders to remove your helmet, and wear a pumpkin when this song is being played in your presence. Failure to do so is frowned upon in the Buttraider culture.
Buttraider traditionally supplies free melons to anyone who wishes to take them.
It is rumored that Buttraider spends most of their day dancing in their chest room to Carly Rae Jepsen's "Call Me, Maybe" (Citation)